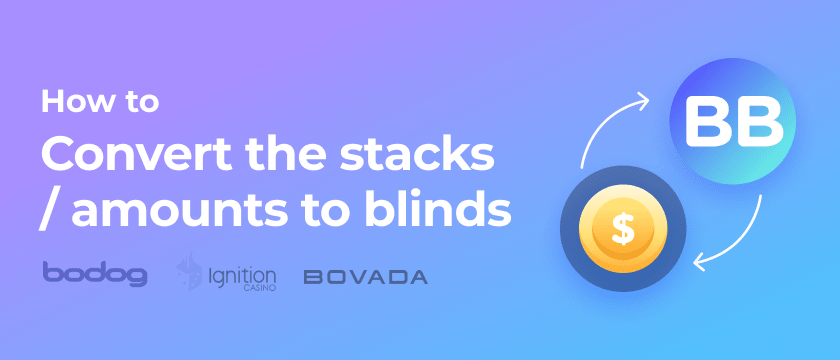 How to convert the stacks/amounts to blinds in Bodog Ignition Bovada
Why blinds?
Your first question regarding converting stacks into blinds is, why? And the answer is quite simple. Thinking your game in blinds will let you have a common denominator across all the stakes you play without having to do any extra math of how much a bet represents on a certain stake.
How to convert my stacks into BB's
There's only one thing you need to do in order to have the amounts shown in blinds! Turn it on inside the site configuration (Comfort features tab)!
---
Going back and forth between money and BB's
Once everything's set up, con can configure a hotkey for toggle BB Mode inside the Hotkeys page! You can also swap between the modes by clicking on your own stack!
---
This feature will help you grind across several stakes seamlessly and also start thinking about blinds way more than actual money! Hope this helps!
Good luck on the tables!
---
Together we are more
Bringing the poker community closer together
¿Want to connect with the Poker Community? Check-out our affiliated streams and spend some time learning and enjoying poker with us.
Jugador de Nose Bleed de torneos y cash, streamer, Youtube y persona de interés del póker en todo el planeta, ha ganado múltiples importantes torneos.
The leading poker education platform. Learn and develop the skills needed to become a successful player in poker!
MTT & Cash streamer&coach, ACR Stormer, 3-time GGSeries Winner, Runner up in GGMasters
ACR Stormer y streamer, juega challenges, cash, torneos y es Argentino como los creadores de Jurojin!
We already support all these platforms: