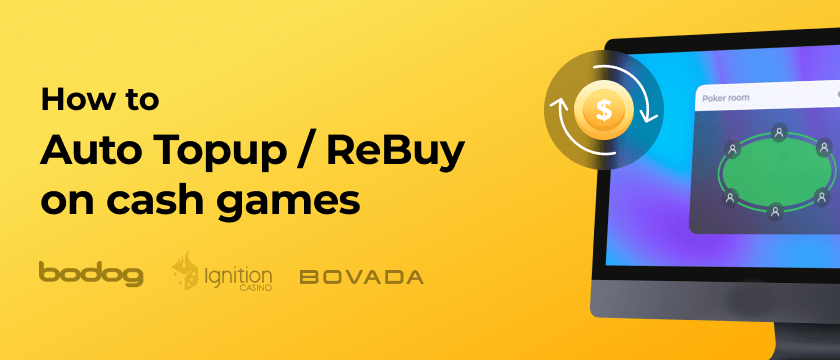 How to Auto Topup / ReBuy on Cash Games for Bodog Ignition Bovada
Tired of clicking the rebuy button?
It's known that playing on a table with a short stack (not so many blinds) is a big disadvantage when playing poker, your stack will usually be the effective stack, and that means you will also define a very small Stack to Pot Ratio
This is exploitable by the other players because they will have a much easier way on controlling how much you commit (how many chips you put into the pot).
How to Auto Top Up on Cash Games
There's only one thing you need to do in order to always have a good amount of chips at the table! Turn the feature on in Jurojin of course!
---
Setting up the values
The default values will be more than fine, having 100bb on the table is always a good idea, however if you wanna play it more on the hand tailored side, you can always define different values.
Define when the blinds are restored back, and define to how many blinds you want to be restored, as simple as that!
You can also tell Jurojin how many blinds to rebuy in case you get busted out (run out of chips) of the table!
---
This feature will help you stay strong at the tables even when running cold, don't let a bad hand keep you as a weak exploitable player! It will be even harder for you to do a good comeback!
Good luck on the tables!
---
Together we are more
Bringing the poker community closer together
Jugador de Nose Bleed de torneos y cash, streamer, Youtube y persona de interés del póker en todo el planeta, ha ganado múltiples importantes torneos.
The leading poker education platform. Learn and develop the skills needed to become a successful player in poker!
MTT & Cash streamer&coach, ACR Stormer, 3-time GGSeries Winner, Runner up in GGMasters
ACR Stormer y streamer, juega challenges, cash, torneos y es Argentino como los creadores de Jurojin!
We already support all these platforms: