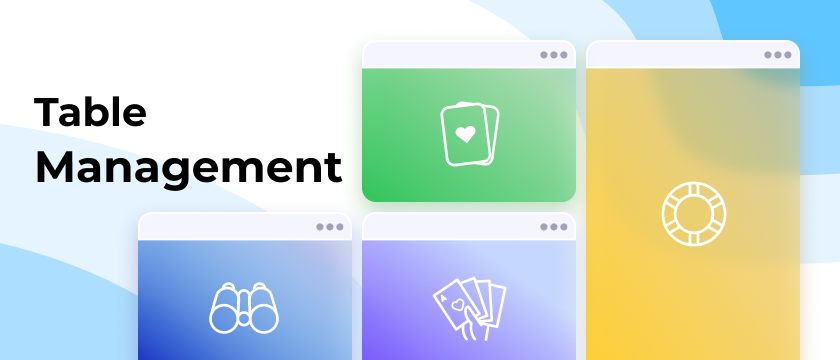 But first, what's a Layout?
A Layout is a grid of Slots that defines how your tables will be displayed on screen. Both size and postion, as well as some behavioral changes that we will cover later in this guide

Static Layouts are built with Playing/Observer slots, they simply define the location and size that tables will have when located on the screen and then it's up to you to organize and move arround the tables according to your needs.
---
About Static Layouts
When defining the Slots on a Static Layout you can think about whether you want to distribute space evenly or give some slot more relevance.
For Example:
Cash players might go for an even mosaic / grid distribution like this: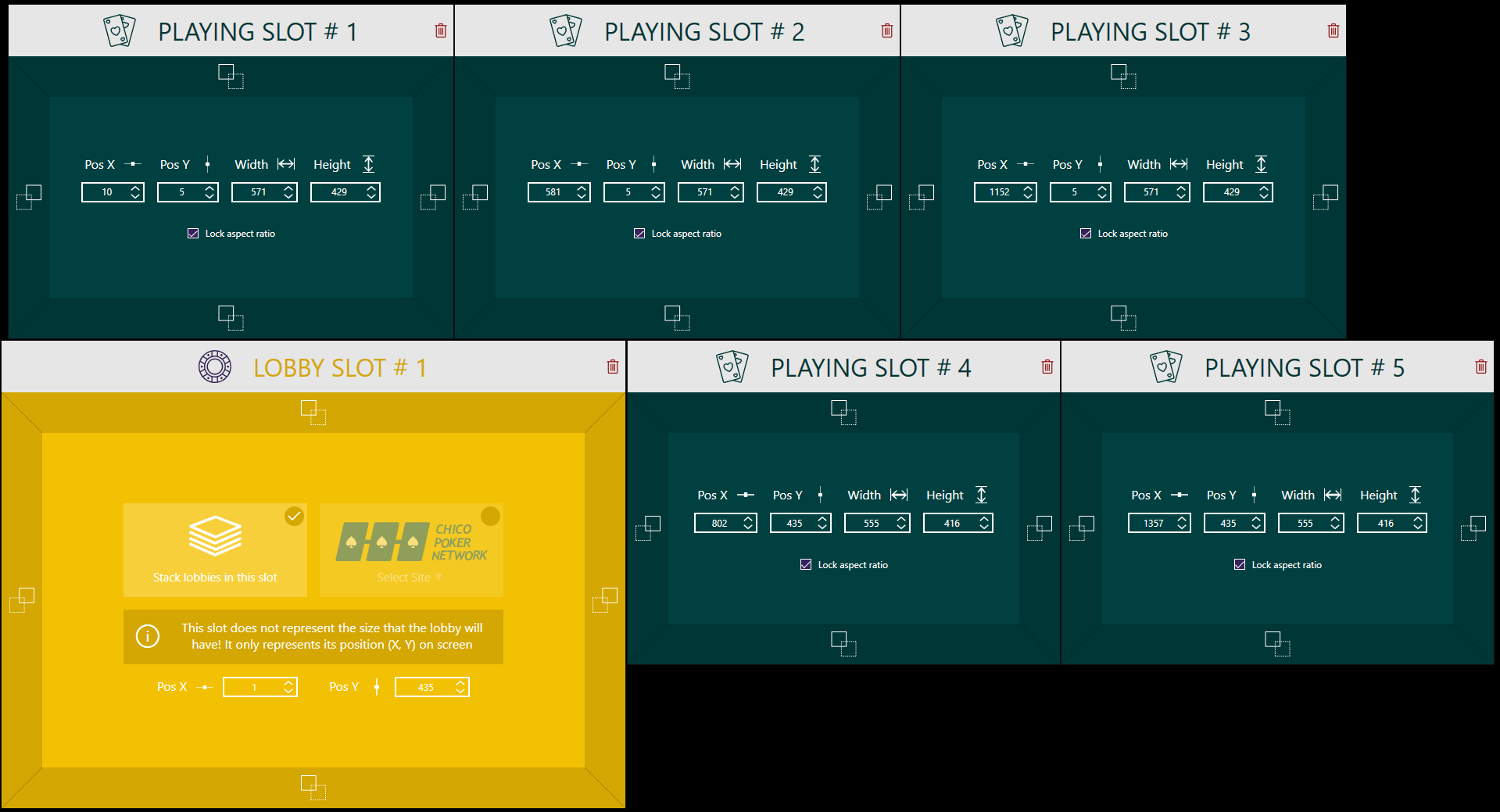 Where Tourney players might define a couple of bigger slots, to place Late Stage Tournament Tables or even Final Tables: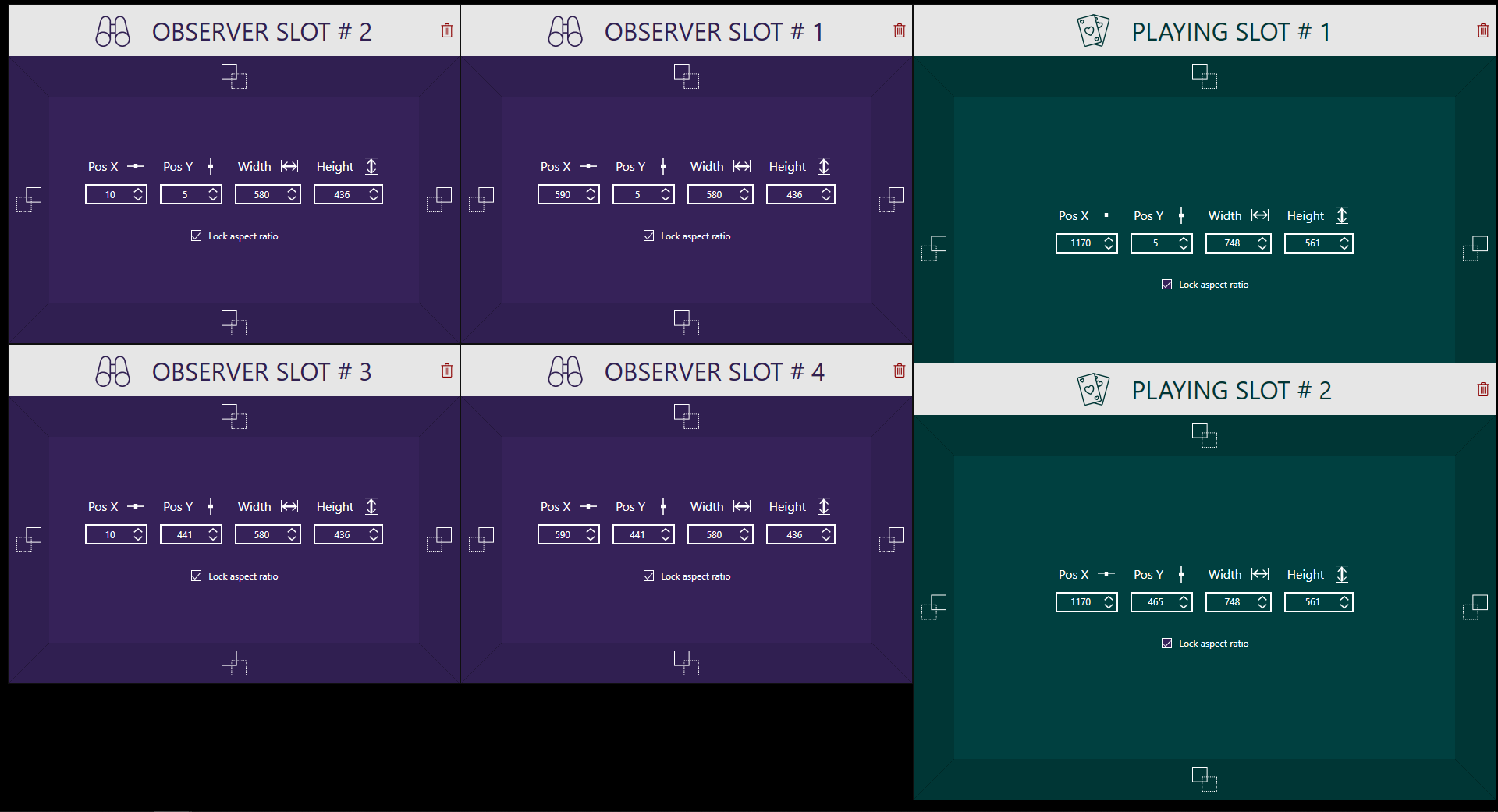 ---
About Dynamic Layouts

Dynamic Layouts are built built with either Action Required Slots, or In-Hand Slots, each of them is exclusive from the other and using one or the other defines a different dynamic and thus a way of playing poker across the screen.
Action Required Slots will tell Jurojin to move tables into their area when it's Hero's Turn. It is quite useful when playing around 4 ~ 6 tables. It is also something to consider if you do not have a lot of screen space to paly arround with. You can learn more about this dynamic here.
In-Hand Slots allow you to create an area on which ONLY tables where you are still playing the hand will be placed.

There are some options to configure that let you define what "In Hand" means for each site within its configuration;




Until the tables reach that certain "In Hand" state, they will be sitting in your Static Slots (Playing/Observer) waiting to be moved.

It is a very elegant way to improve your multi-tabling focus and should be strongly considered when playing more than five tables. Take in mind that you will need some Screen Space.
Remember you can always add a new screen to your setup and Jurojin will work seamlessly with it!


Learn more about In-Hand Dynamic here!
---
Together we are more
Bringing the poker community closer together
Jugador de Nose Bleed de torneos y cash, streamer, Youtube y persona de interés del póker en todo el planeta, ha ganado múltiples importantes torneos.
The leading poker education platform. Learn and develop the skills needed to become a successful player in poker!
MTT & Cash streamer&coach, ACR Stormer, 3-time GGSeries Winner, Runner up in GGMasters
ACR Stormer y streamer, juega challenges, cash, torneos y es Argentino como los creadores de Jurojin!
We already support all these platforms: